I am proud to offer you a medical care practice where patients are what matter most. Here, there are no more middle-men, no more intrusive insurance requirements, and no more barriers to your care. In my practice, it's just you and me working together to keep you healthy. It's time for primary care and internal medicine to get personal again! I hope you'll join me.
Annual Comprehensive Physical Exam

Unlimited follow up visits for management of chronic medical problems

Unlimited acute visits for new problems

Courtesy hospital visits at Methodist Stone Oak Hospital

Coordination of specialist care
24/7 access to YOUR primary care physician

Pre-operative evaluations

Preventative Care Consultations

In-home visits when appropriate
Women's health counseling

Virtual visits via FaceTime when appropriate
My chief goal is to make my patients the center of my medical practice by providing more time for office visits, better communication between visits, more continuity of personal care and more attention to detail than what is offered in a traditional insurance-based practice.
Erin Reese MD is able to provide concierge medicine services to residents across the state of Texas and the following local cities; Houston, Dallas, Austin, New Braunfels, San Marcos, Victoria, San Angelo, Bulverde, Canyon Lake, Boerne, Corpus Christi, Galveston.
Approach: Concierge MD Program
My approach to your care is evidence-based, comprehensive, individualized, and compassionate. In order to provide you with the quality care you deserve, I will take the time to get to know the whole you so that I can tailor your treatment plan to your individual needs.  There is no "one size fits all" approach to medicine.
What gives me joy is working collaboratively with my patients to form unique solutions to very complicated medical problems.  Whether it is a focused discussion about the prevention of disease or a lengthy discussion about treatment options for a new diagnosis, I believe that education empowers my patients.  The more I can teach you about what I have learned over 7 years of training and 10 years of practice, the more likely we are to be successful in improving your health.  This approach takes time and is not achievable in a traditional "insurance-based" model.
My practice is based on a concierge care model.  This means that for an annual membership fee you will have 24/7 access to me, usually directly unless I am in clinic or with a patient. That annual fee covers all concierge doctor services I provide.  I will not bill your insurance company and you will never have to pay a co-pay for office visits.
To read more about why I chose the concierge medicine model, please read my article here.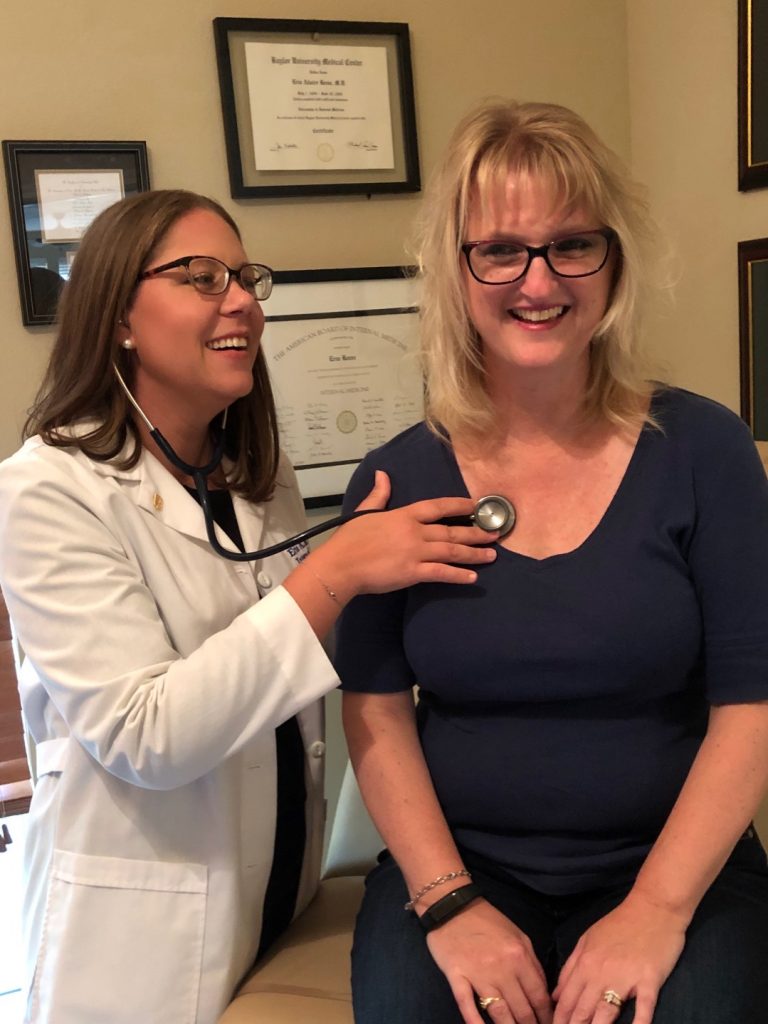 Why Concierge Medicine?
| CONCIERGE MODEL | Traditional "Insurance-based" Model |
| --- | --- |
| 30-60 minute office visits | 10-15 minute office visits |
| See YOUR physician EVERY visit | Will frequently be seen by a physician extender such as nurse practitioner or physician's assistant which fragments care |
| Same-day or next-day appointments | Will frequently wait weeks to months for an appointment |
| Minimal in-office wait time | May wait an hour or more in-office |
| Access to YOUR doctor via phone, text or email 24 hours a day | Rarely able to speak to your physician between office visits |
| Relaxed, comfortable office atmosphere | Busy office with stressed-out or hurried staff |
| Flexible office hours for visits | Rigid office hours |
| Simple annual fee for services provided | Complicated billing structure with co-pays and extra fees |
Hear from my patients below.
Healthcare insights, tips and news about the medical world